WORSHIP SERVICES
We invite you to join us each week as we worship together, learn together, serve together for the sake of our Lord and His eternal glory.
Worship Times:   September-May     
7:45 am Traditional Service
9:00 am Sunday School & Adult Bible Study
10:15 am Traditional & NewSong Contemporary
Summer Schedule: Memorial Day weekend – Labor Day weekend
7:45 am Traditional Service
9:00 am NewSong Contemporary Service
10:15 am Traditional Service
No Sunday school during summer schedule
CLICK BELOW FOR THIS MONTHS CALENDER
St. John's Newsletter June 2019
Time to Register for Camp!       
The summer camping season is here!  Sign up your children for one of our church camp weeks.  REGISTER EARLY!!  LET'S HAVE A GREAT ST. JOHN'S TURNOUT AT LAKE LUTHER!!  Thanks to the Endowment Fund 50% of each camper's fee will be paid. If you wish to have ½ of your child's camp fee covered please turn in your camp registration to the church office. It is our intention to have no child denied a summer Christian camping experience due to financial difficulties. If further assistance is needed, please see Julie Mattes. Camp brochures are available in the west entrance.
Camp "Open House"          
Saturday, June 8, 2019 is "Open House Day" at all 3 Lutheran Outdoor Ministries Camps (Lutheran Hills, Lutherwald and Lake Luther). This is a FREE camp OPEN HOUSE day for the entire family to see what camp is all about – meet our counselors, check out the cabins and take a tour of the camp. Arrive anytime between 1:00 and 3:00 p.m. No need to register. There is no need to register. For more information, maps and directions go to www.lomik.org or call 260-667-7750.
St. John's Turtle Days Float        
The Outreach Committee will be sponsoring a St. John's float in the Churubusco Turtle Days Parade on Saturday, June 15. The parade starts at 11:00 a.m. from the C & A Parking lot, 4100 N US 33, and the highway will probably shut down at 10:45 a.m. Everyone is welcome to join us in the parade and it would be so exciting to have a huge group of us walking or riding with the float. Wear your St. John's t-shirt and join us!
Register for VBS         
Are you ready to ROAR!? At ROAR! kids explore God's goodness and celebrate a ferocious faith that powers them through this wild life. VBS will be Sunday, June 16 through Thursday June 20th from 6:00 – 8:30 p.m. Children ages 4 through 5th grade can attend. Register your kids on-line at https://vbspro.events/p/events/272b1e. We will need lots of helpers as well, so if you would be interested in helping with VBS you can sign-up on-line as well using the web address above. If you have questions please contact Chrissy VanEvery. Invite your family, friends and neighbors!
Family-friendly Movie Night         
The Outreach Committee will be sponsoring a family-friendly movie night on Sunday, June 23, at 6:30. We will be showing two movies simultaneously – Ralph Breaks the Internet and Same Kind of Different as Me. Popcorn and drinks will be provided. Bring your pillow, bean bag chair, and blanket if you want, and join us for an evening of fun and entertainment. Friends are always welcome!
Library Summer Reading Program         
Sign-up today for the Library's Summer Reading program, all ages are eligible to participate.  If your child is too young to read on their own, parents may read to them.  Children who are read to at a young age grow up to be better readers and enjoy reading throughout their lives;  School age children retain 75 to 80 percent more of what they have learned (math and science included) during the school year if they read in the summer.  Sign-up sheets are available in the Library.  The summer reading program runs through September 1.
Donations Needed         
On Wednesday, June 26, TCC will be serving at the Mad Anthony Children's Hope House on the Lutheran Hospital Campus, which provides temporary, minimal-cost lodging to parents and families of critically ill or injured children who are receiving medical care away from home. We are looking for donations for overnight emergency bags. Donations would include personal sized shampoo, conditioner, soap, lotion, toothpaste, toothbrush, chapstick, and anything else you think might be handy. We will also be collecting coloring books and crayons for the children in the hospital. Look for our donations tub in the narthex, and as always, thank you for your support!
Link Video Chats      

Our new Youth/Young Adult Director "Melanie Crapser" would like to implement "Link Video Chats" a couple of times a month to keep in touch with our college age young adults who are either away at school or are keeping a busy schedule juggling school, work, family, etc. These will be in the evenings with a brief devotion and a short time to connect and catch up. Parents please provide Melanie with phone numbers and emails. We hope this will be a great tool to help this group stay grounded in their faith.
Ladies Appetizer & Game Night         
Please mark your calendars and join us on Friday, June 28th at church from 6:00 p.m. – 8:00 p.m. for an evening of appetizers, game time (prizes too), and fellowship.
Because of the game chosen, it will be necessary to sign-up in advance on the board at the entrance of the Narthex.  Deadline for sign-up is Sunday, June 23rd.
Please also bring your favorite appetizer to share. Please contact Davonna Gynn or Shelly Roberson for any questions or inquiries.
Lutheran Night at the TinCaps           
This year's Lutheran Night at the TinCaps will be on Monday, July 22nd at 7:05 p.m. featuring the Tin Caps vs Cedar Rapids Kernals  Tickets are $10.00.  Along with the game, your ticket price includes fireworks after the game. Every Monday night game is Family Feast Night, fans can enjoy select concession items for only $1.00, including hotdogs, popcorn, soft drinks and pizza slices. As in past years we will have a St. John's block of seats. To order your tickets place cash or a check made payable to the Fort Wayne TinCaps in an envelope, include your name and how many tickets you are ordering, you can place this in the offering plate or the box outside the church office. Please have all ticket orders turned into the church office by Wednesday, June 19. By ordering our tickets by then everyone will be entered in the early bird drawing for a chance to win autographed team apparel, $50 gift certificates, and chances to throw out the first pitch. $1 from each advance ticket sold will go to the RN Scholarship fund at Lutheran Life Villages which provides the opportunity for LLV staff to grow and earn their RN license. This is a night of fun family entertainment, so invite your friends and family.
Daily Devotions Options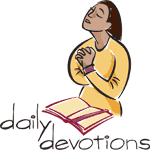 Daily devotions and spending time listening and talking with God is imperative not only for encouragement to face each day, but also to continue to grow in your faith.  There are many devotional ideas to consider. Here at St. John's, we have the Christ in Our Home daily devotional booklets available in regular and large print form.  Ask an usher and they can get one for you.  Also, for those who have a smart phone, there is a free app called "Our Daily Bread Ministries" (ODB.org) that you can download. This is a great, convenient way to begin each day.  We encourage you to pass this information to your family and friends, especially to those who may be away at school or on the road and do not have access to a written form of devotion.  This message is from the Worship Committee who want to support you in your personal journey and inspire you to spend time with the Lord every day.
Church Directory App is Here!     
Yes we have an App for our church directory. This gives you access to our directory on your phone or home computer. It's free and easy to use. The App works on Apple devices and Android devices. There are copies of the instructions to download the App on the table in the narthex. If you have any questions contact the church office.
Women's Bible Study Group      
The Women's Friday Morning Bible Study Group (sorry, we don't have a snazzy name) will start up again September 7, 9:00 a.m. at church with a study by Max Lucado called, "Anxious for Nothing". It is a six session study that focuses on the worries we often carry and how we can exchange it for true peace that only God can give. We would LOVE to have you join this fun group of women who love Jesus and enjoy learning from one another! Please see Melanie Crapser or Susie Groeling with any questions you may have.
WNALC Bible Study        
Our NALC Bible study class will not meet in September. We will start a new book on Thursday, October 5th. It is "Forgotten God" by Francis Chan. We will have a workbook to help us through it. It is a book about the Holy Spirit. We would like to invite anyone who has not attended a Bible Study to join us. We meet at 9:30 on the first Thursday of each month. I have extra books so if you would like to join us see me, Penny Heggen, and I will get you a book. My cell number is 415-3796.
We are a non-threating group. If you don't like to read we won't make you read. If you don't like to talk, we won't insist on it. If you talk too much ask the Holy Spirit to hold his hand over your mouth, and to give you courage when He wants you to speak!
Golf League       
The St. John's Golf League began on Monday, April 29 and will run through August.  The Golf League meets Mondays at Eel River Course at 5:00 p.m.  We welcome both men and women to join the golf league, players of all levels, and we look forward to a time of fellowship and fun.  If you would like to sign-up, or have any questions, please call Tony Eagle at 625-3031 or Terry Heck at 248-8905.
June Youth Events            
Sunday, June 2, TCC Youth Leadership
Wednesday, June 5, GROUP – MYFROG
6:30 p.m. – 8:00 p.m. at church, water games
Wednesday, June 5, GROUP – TCC
6:30 p.m. – 8:00 p.m. at church
Wednesday, June 5, Link Video Chat
Friday, June 7, MYFROG kayak trip/bonfire
4:30 – 10:00 p.m. meet at church, pick-up @ Chrissy's
Drivers/chaperones needed, cost $20 per person
Sunday, June 9-14, Confirmation Camp
register with church office, at Lake Luther
Wednesday, June 12, Link @ Embassy Summer Nights
6:00 p.m. – 8:00 p.m. meet at church at 5:30p.m.
Friday, June 14, TCC Red-Eye Event
Saturday, June 15, St. John's Turtle Day Parade float. All are welcome to join Outreach in the parade.
Sunday, June 16-20, VBS – Helpers Needed
6:00 p.m. – 8:30p.m. open to all ages 4-5th grade
Wed., June 19, NO TCC or MYFROG GROUP due to VBS
Wednesday, June 19, Link Video Chat
Wednesday, June 26, TCC Mad Anthony Children's Hope House and Pizza Hut.
Wednesday, June 26, MYFROG GROUP
Friday, June 28, Family Fun night
6:00 p.m. – 8:30 p.m. 4th of July theme! Pot luck dinner, outdoor tailgate party weather permitting.
Saturday, June 29, Link dinner @ CJ's Drive In
5:00 p.m. – 6:30 p.m. in Columbia City
Women of the WNALC      
Bible Study — Thursday, June 6 — 9:30 a.m.
There will be no Sewing Workday in June, July & August
Bible Study — Thursday, July 11 — 9:30 a.m.
There will be no Sewing Workday in June, July & August
St. John's Yard Signs and T-Shirts          
There are new St. John's yard signs and new metal stakes if your sign is still good but the stake has broken. Look for these in the narthex near the library. There are also a limited number of St. John's t-shirts for sale in various sizes. Please see Melanie Crapser for t-shirt information.
Logan's Heroes           
Dear St. John's, Please support Logan's Heroes and the 30,000 young people with CF who will directly benefit from your research donation.  The Indianapolis Great Strides Walk is on June 9th at 1:00 PM.  Your contribution is 100% tax deductible and you should feel good that the Cystic Fibrosis Foundation (CFF) operates lean and efficient so that 89 cents of every donated dollar goes directly toward CF research and the advancement of care giving. Come join Logan's Heroes or leave the walking to us. Go online here to donate now:  http://bndfr.com/Xk2h5. Also donations may be mailed to my address below. I look forward to the day when I no longer have to fundraise for the CFF because these kids are cured!   Thanks, Mike Doseck, 912 Hampton Way, Westfield, Indiana 46074
2019 Everlasting Word Calendars   
Sheets & Childs Funeral Home has again graciously provided us with complimentary 2019 calendars. These calendars have the churches name, service times and other pertinent information on the bottom. Please take one for your home or workplace and take a few to share with friends you would like to invite to church. Use these great outreach tools to grow God's family.
Discipleship Study Group      
The Discipleship Study Group (D.S.G.) is for those in high school on up.  It is intended to be "multigenerational" so that we can build off of each other's experiences and points of view.  It is primarily focused on Bible study and discussion relating to the themes and lessons taken from the scripture, and offering life applications to help us grow as Disciples of Christ. The link to the Discipleship Study Group Facebook page is http://www.facebook.com/groups/1362852013859281/They meet every other Wednesday at 6:30 p.m. Next Meeting November 7th.
Funeral Information Sheet      
At the time of death it is often difficult and stressful for families to gather information and to make all the decisions that need to be made. As a help to your family, you are invited to fill out the Funeral Information Sheet that is included in this newsletter and return it to the church office to be kept on file. Having this information on file may help to insure that your desires are taken into consideration in planning your funeral arrangements.
What is Discovery Group?       
Discovery Group is a young adult small group focused on Bible study, relationship building, and personal growth.  It's specifically targeted towards those in their 20's – mid 30's, but all are welcome. Join our facebook group page, at www.facebook.com/groups/357303071299032 or contact Rob Niman for more information (ph/txt 260-443-6759 | email rpniman@yahoo.com).
How About LINK?         
Link is a group for young adults of "college age" and high school seniors. Link's focus is on helping each other stay connected to our faith through relationship building, service, and spiritual growth. Join our fa-cebook group page www.facebook.com/groups/1773200429634003
 Keep Church Records Up To Date                   
Just a reminder, please keep your church information up to date. Let us know if you have moved, changed your phone number, e-mail address or if you have done away with your land phone line. During the winter months there may be times when services need to be canceled due to weather, if we do not have current information we are not able to relay these messages.
St. John's is on Facebook!    
Facebook can be not only a way for our members to stay connected with what's happening at St. John's, it can also be a valuable outreach tool. And you can help! Just "like" and "follow" our page at St. Johns Lutheran Church of Lake Township, then when you see a new post, "like" or "share" the post to help it reach more people. This will allow others to see our service information, upcoming events, and groups. If you would like your event or group highlighted on our Facebook page, or if you have any comments or suggestions, please call Melanie Crapser.
Testament Bibles   

In the back of the sanctuary, fellowship hall and in the narthex are paperback editions of the New Testament. Please take one and keep it if you need it, or give it to someone you think may want it – a neighbor, friend, co-worker, or even a stranger. This would be an easy way to share Christ's message, love, and redeeming grace.
2019 Flower Chart
The 2019 flower chart is now in the binder in the library.  Two or more families can sign up per Sunday.  The cost of the flowers is $15.00 per family.  You can place your donation for the flowers in the offering plate on Sunday.  If you do so, please be sure to designate that in the appropriate box on your offering envelope.
7914 West Cook Road, Fort Wayne, Indiana 46818
260-489-5031 | office@stjohnslaketownship.org