WORSHIP SERVICES
We invite you to join us each week as we worship together, learn together, serve together for the sake of our Lord and His eternal glory.
Worship Times:   September-May     
7:45 am Traditional Service
9:00 am Sunday School & Adult Bible Study
10:15 am Traditional & NewSong Contemporary
Summer Schedule: Memorial Day weekend – Labor Day weekend
7:45 am Traditional Service
9:00 am NewSong Contemporary Service
10:15 am Traditional Service
No Sunday school during summer schedule
CLICK BELOW FOR THIS MONTHS CALENDAR
Thanksgiving Service        
The WNALC is busy planning the Thanksgiving service.  The service will be held on Wednesday evening, November 22 at 7:15.  This service will be a Thanks offering service so we ask that you bring your thanks offering boxes and/or a non-perishable food item for the food pantry.  These items will be placed on the Altar.  This service will be led by the women of our church.
Christmas Families
Please sign up to give a gift(s) for a member of this year's Christmas families sponsored by Lutheran Social Services. The sign up poster board is in the narthex; it will give you the details. The last day to sign up for gifts is Sunday, November 19. Please bring gifts to church from November 5 through November 26 and place gifts at the east end of the fellowship hall. Place your wrapped gift in the basket with your family number or near the basket. Be sure to clearly mark your gift with the family number and the appropriate information such as boy age 10.
Another way you can help is by donating money. To do this, mark "other" on your church envelope, write in "Christmas Family" and the amount or place money in the Helping Hands box by the sign up board. This money is used to buy one Bible per family and perishable food items.
Operation Christmas Child       
Operation Christmas Child boxes are almost complete. We need a few more "fun" items to go in them. The children worked hard this summer and made several items that are in the boxes already. They now have socks, a t-shirt, clotheslines, games, bouncy balls, balloons, and crayons.
Matchbox cars, SMALL dolls and stuffed animals (must fit in a shoebox) and toy items as well as bar soap are needed. Some regulations have changed and we cannot send toothpaste or candy anymore. We will take up a special offering on Sunday November 5 to pay for the $9 per box shipping (increased price). Please bring all items by Sunday, November 12th.
Senior Dinner         
The Annual Senior Dinner sponsored by the WNALC will be held on Sunday, November 19th at 11:30 a.m. after the late services. Those who are 65 and older, and their spouse/guest, are invited to attend. Please join your St. John's friends for some good food and fellowship! There will be a sign-up sheet in the narthex or please call the church office or Davonna Gynn at 460-0373 to let us know that you are coming.
Pies Needed for Senior Dinner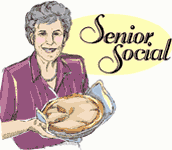 The annual Senior Dinner sponsored by the WNALC will be held on Sunday, November 19th. We are looking for members of the congregation to donate pies to be served as dessert for this event. There will be a sign-up sheet in the narthex, contact the church office or Davonna Gynn at 460-0373 if you will be willing to provide a pie or two for this special event in honor of our senior members!
S.O.S. Serving Our Seniors          
The Outreach Committee and the TCC youth group would LOVE to help our seniors in the church with seasonal yardwork. We call this fun project SOS: Serving Our Seniors! This could include raking leaves, picking up sticks, trimming trees, or other yard work that you think we could help with. Look for the sign-up sheet in the church hallway, let us know your needs, and on November 5, from noon-4pm, we will schedule a time to come out to your place and get your yard cleaned up!  Contact Susie Groeling or Rob Niman with questions.
WNALC Bible Study        
The WNALC Bible Study will be Thursday, September 7th at 9:30 a.m. everyone is invited and welcome! Read Romans 8:18-39 and you will be prepared.  We would love to see some new faces.
Kids Club         
The next Kids Club meeting will be Friday, November 17 from 6:00 to 8:00 p.m. in the fellowship hall; dinner will be served.  Our senior friends will be joining us for some activities. All children age 4 thru 5th grade may participate. If you have friends or relatives that would like to join us, please invite them. Helpers – Middle School, High School and adult helpers are always appreciated. We can't do it without you! Please RSVP with the number of children that will be attending to Chrissy VanEvery 515-4646 or the church office.
New Discipleship Study Group      
The Discipleship Study Group (D.S.G.) is for those in high school on up.  It is intended to be "multigenerational" so that we can build off of each other's experiences and points of view.  It is primarily focused on Bible study and discussion relating to the themes and lessons taken from the scripture, and offering life applications to help us grow as Disciples of Christ. The link to the Discipleship Study Group Facebook page is http://www.facebook.com/groups/1362852013859281/They meet every other Wednesday at 6:30 p.m. Next Meeting July 5.
Young Adult Sunday School Class     

This year we are beginning a young adult Sunday School class along with our children's and adult Sunday School classes. It will be taught by Rob Niman and Andy Swihart. Be sure to join us week Sunday at 9:00a.m.!
Funeral Information Sheet
At the time of death it is often difficult and stressful for families to gather information and to make all the decisions that need to be made. As a help to your family, you are invited to fill out the Funeral Information Sheet that is included in this newsletter and return it to the church office to be kept on file. Having this information on file may help to insure that your desires are taken into consideration in planning your funeral arrangements.
November Youth Events            
Saturday, November 4, MYFROG-Movie & Game Night
6:00 p.m.—9:00 p.m.
Sunday, November 5, S.O.S. Serving Our Seniors – TCC & Young Adult
11:30 a.m. – 4:00 p.m., lunch at church & assist seniors with fall clean up
Sunday, November 5, MYFROG/Confirmation Class
11:30 a.m. – 1:00 p.m.
Wednesday, November 8, Discipleship Study Group
6:30 p.m. – 8:00 p.m., TCC and Adults
Friday, November 10, TCC – Games & Make Holiday Cookies
6:30 p.m. – 10:00 p.m.
Sunday, November 12, TCC Youth Leadership Council 
11:30 a.m. – 1:00 p.m.
Sunday, November 12, MYFROG/Confirmation Class 
11:30 a.m. – 1:00 p.m.
Wednesday, November 15, TCC & MYFROG – To Coventry Meadows to Decorate Trees
6:00 p.m. – 8:00 p.m. Meet at Coventry Meadows, if you need a ride let Rob or Chrissy know and meet at the church at 5:45p Parents are welcome to come, we have 9 trees to do!
Friday, November 17, Discovery Group – Young Adult
6:00 p.m. – 8:00 p.m., Location TBD
Friday, November 17, Kids Club
6:00 p.m. – 8:00 p.m., Youth Helpers Appreciated
Sunday, November 19, Link Lunch – H.S. Seniors & Young Adult
11:30 a.m. – 1:00 p.m.
Sunday, November 19, MYFROG/Confirmation Class
11:30 a.m. – 1:00 p.m.
Wednesday, November 22, Discipleship Study Group
6:30 p.m. – 8:00 p.m., TCC and Adults
Wednesday, November 29, GROUP – TCC & MYFROG
6:30 p.m. – 8:00 p.m.
What is Discovery Group?       
Discovery Group is a young adult small group focused on Bible study, relationship building, and personal growth.  It's specifically targeted towards those in their 20's – mid 30's, but all are welcome. Join our facebook group page, at www.facebook.com/groups/357303071299032 or contact Rob Niman for more information (ph/txt 260-443-6759 | email rpniman@yahoo.com).
How About LINK?         
Link is a group for young adults of "college age" and high school seniors. Link's focus is on helping each other stay connected to our faith through relationship building, service, and spiritual growth. Join our fa-cebook group page www.facebook.com/groups/1773200429634003
or contact Rob Niman for more information (ph/txt 260-443-6759 | email rpniman@yahoo.com).
 Keep Church Records Up To Date                   
Just a reminder, please keep your church information up to date. Let us know if you have moved, changed your phone number, e-mail address or if you have done away with your land phone line. During the winter months there may be times when services need to be canceled due to weather, if we do not have current information we are not able to relay these messages.
Looking for a Women's Bible Study Group?        
Please join us every Friday beginning September 8th at 9 am in the church conference room for some laughter, fellowship, prayer and most importantly, healthy Bible Study! One of our strengths is the range of ages and seasons of life we all bring to the group. The body of Christ is blessed to learn from one another no matter who we are and what we bring to the table. The Bible tells us if we only gather a few in His name, and He will certainly be there too (Matthew 18:20). Our first study will be on the life of Peter and how we can learn from him to better follow Jesus. Childcare is provided. Please contact Susie (579-7047) if you're interested.
Women of the WNALC      
Bible Study — Thursday, November 2 — 9:30 a.m.
Sewing Work Day — Tuesday, November 7 — 9:00 a.m.
Bible Study — Thursday, December 7 — 9:30 a.m.
Sewing Work Day — Tuesday, December 12 — 9:00 a.m.
HELP NEEDED!
The "Lutheran Ministry Veterans and Families Ministries" is in need of office volunteers to help us on Tuesdays.  If you are able to help out, please contact us (any Tuesday) by phone: 1-260/755-2239, email: bluf03@gmail.com or, by US mail at: LMVFM, 3480 Stellhorn Road, Fort Wayne, IN 46815. We are anxious to hear from you.
Bless You, Leslie Haines, Executive Director
Home Builders Marriage Group       
Have you been thinking your marriage could use some new life? Would you like to have fun, laughs, dessert, and fellowship with other married couples? Consider joining our Home Builders group. This group is open to all married couples, all ages, with or without children.
In September we will begin a new study, "Staying in Love" by Andy Stanley. "Falling for someone is easy. But staying in love? Ah, there's the rub! Pastor Andy Stanley guides you through a proven plan to help you keep romance alive and deepen your commitment to one another." We meet once a month (usually the 3rd Saturday) at various homes. Our November meeting will be on the 18th at 6:30 p.m. at the Groelings. If you would like more info on this group contact the church office. Join us as we work to strengthen our marriages and our families in a way pleasing to God.
St. John's is on Facebook!    
Facebook can be not only a way for our members to stay connected with what's happening at St. John's, it can also be a valuable outreach tool. And you can help! Just "like" and "follow" our page at St. Johns Lutheran Church of Lake Township, then when you see a new post, "like" or "share" the post to help it reach more people. This will allow others to see our service information, upcoming events, and groups. If you would like your event or group highlighted on our Facebook page, or if you have any comments or suggestions, please call Melanie Crapser.
LMVFM's New Therapy Dog        

Though the VA has yet to recognize the therapeutic value of therapy animals for veterans who have been spiritually and emotionally traumatized, LMVFM not only recognize their value, but believe that veterans in need of trained and certified therapy dogs/ animals should have ready access to them. In fact, we believe so strongly in the therapeutic value of service animals that we have a new four legged LMVFM team member that we will be bringing to St. John's (with approval of church council) to help train for her work with our ministry. Lilly, a 4 month old Golden Retriever is in training to become a Therapy dog for LMVFM. We will be bringing Lilly to Sunday School and to Church with us so she can become accustomed to being around people and in a church environment. Lilly is working to become a therapy dog to sit in on counseling sessions with veterans and to travel as an ambassador with the LMVFM team to help people understand the benefits of therapy dogs for veterans. Please feel free to come up to Lilly to meet her.
New Testament Bibles   

In the back of the sanctuary, fellowship hall and in the narthex are paperback editions of the New Testament. Please take one and keep it if you need it, or give it to someone you think may want it – a neighbor, friend, co-worker, or even a stranger. This would be an easy way to share Christ's message, love, and redeeming grace.
2017 Flower Chart
The 2017 flower chart is now in the binder in the library.  Two or more families can sign up per Sunday.  The cost of the flowers is $15.00 per family.  You can place your donation for the flowers in the offering plate on Sunday.  If you do so, please be sure to designate that in the appropriate box on your offering envelope.
 7914 West Cook Road, Fort Wayne, Indiana 46818
260-489-5031 | office@stjohnslaketownship.org