WORSHIP SERVICES
We invite you to join us each week as we worship together, learn together, serve together for the sake of our Lord and His eternal glory.
Worship Times:   September-May   
7:45 am Traditional Service
9:00 am Sunday School & Adult Bible Study
10:15 am Traditional & NewSong Contemporary
Summer Schedule: Memorial Day weekend – Labor Day weekend
7:45 am Traditional Service
9:00 am NewSong Contemporary Service
10:15 am Traditional Service
No Sunday school during summer schedule
CLICK BELOW FOR THIS MONTHS NEWSLETTERS 
November 2019 Parenting Christian Kids Newsletter
November  2019 Crossroads Conversation Newsletter
Serving Our Seniors
On Sunday, November 3, from noon to 3:00 pm, the Outreach committee will be sponsoring the annual Fall S.O.S. – Serving Our Seniors. Please help us show some love and appreciation to our senior members through some yard work and simple home repair and chores. Bring a rake and a pair of gloves if you can.
If you are someone who could use a little help in this area, please be a blessing to us by allowing us to serve you. There is a sign-up sheet in the narthex.
Pancake Breakfast
On Sunday, November 3, the youth will be hosting a mission trip fundraiser. There will a pancake bar served from 8:30-10:00 in the church kitchen. There will be blueberry, chocolate chip, pumpkin and regular pancakes to choose from, as well as sausage links, fruit and drinks. This will be a free-will offering and "to-go" options will be available. Please support our youth as they prepare for a week of service in New York.
Thanksgiving Service
The WNALC is busy planning the Thanksgiving service.  The service will be held on Wednesday evening, November 27 at 7:15 pm.  This service will be a Thankoffering service so we ask that you bring your thankoffering boxes and/or a non-perishable food item for the food pantry.  These items will be placed on the Altar.  This service will be led by the women of our church.
Operation Christmas Child
We have begun collecting items for operation Christmas child. Every two weeks we will have a new category of items and when November rolls around we will have all of our items to fill the boxes. Our goal is to fill 50 boxes (25 boy, 25 girl) that will be packed by our KIDS Club children and youth groups.
Items that are NOT accepted: Candy; toothpaste; gum; used or damaged items; war-related items such as toy guns, knives, or military figures; chocolate or food; seeds; fruit rolls or other fruit snacks; drink mixes (powdered or liquid); liquids or lotions; medications or vitamins; breakable items such as snow globes or glass containers; aerosol cans. Consider the Dollar Tree store to make your money go farther!
September 22-29 School supplies (small notepads, pencils, pencil sharpeners, colorful tape, crayons, stickers, glue sticks, play-doh, scissors)
October 6-13 Personal Care items (Comb, bar soap, wash cloth, hair elastics, band-aids, toothbrushes, cup, spoon)
October 20-27 Toys (small stuffed animal or doll, matchbox cars, foam or tennis ball, slinky, plastic animals, jacks, harmonica)
November 3 Shoe boxes (good quality plastic) and bandannas (colorful)
November 10 Monetary donations for shipping expenses
Piano For Sale
Make a joyful noise unto the Lord! The piano in the fellowship hall is for sale. It is in good condition and was recently tuned. A silent auction will be held the month of September. Anyone wanting to bid can do so by signing their name on the sheet located on the piano. Starting bid is $200. Please contact Linda Eagle with any questions.
Christmas Families
Please sign up to give a gift(s) for a member of this year's Christmas families sponsored by Lutheran Social Services. The sign up poster board is in the narthex; it will give you the details. The last day to sign up for gifts is Sunday, November 24. Please bring gifts to church from November 10 through December 1 and place gifts at the east end of the fellowship hall. Place your wrapped gift in the basket with your family number or near the basket. Be sure to clearly mark your gift with the family number and the appropriate information such as "boy age 10".
Another way you can help is by donating money. To do this, mark "other" on your church envelope, write in "Christmas Family" and the amount or place money in the Helping Hands box by the sign up board. This money is used to buy one Bible per family and perishable food items.
Sunday Night L.I.T.E.
Love. Inspire. Testify. Enlighten.
November 3rd, 6:00 – 7:30 p.m.
People of all ages are invited to participate in Sunday Night L.I.T.E. at the church next Sunday November 3rd. Sing a song, read a poem, show your art, or share a special story of God working in your life. Whatever it is God has given you to glorify Him and bring joy to others; we want you to share it. If you have not yet been to one of these inspirational, gatherings join us and bring a friend. Refreshments and fellowship from 7:30-8:00 p. If you would like to share that evening contact Rob Niman to let him know.
Mental Health Awareness Night
On Wednesday, November 13, from 6:30-8:00 pm, St. John's will be hosting a Mental Health Awareness Night. Mental health is not something we talk about much at church, and it's time for that to change. The reality is that many of us are struggling with anxiety, depression, or other mental health issues, or know someone who is. St. John's would like to begin some informative and personal mental health nights that will hopefully open up an opportunity for educating, supporting, and providing information about services available to those suffering from and those caring for or loving someone with mental health issues. On this first Mental Health Awareness Night, we will be joined by Gary Younghans from Cross Connections. Please join us as we begin this journey together.
The MY FROG youth group will be selling freshly baked bread perfect to compliment your Thanksgiving meal. Bread will be $5 per loaf and there will be white, wheat and dinner rolls available. Please watch the bulletin for more information as well as order forms. Bread will come packaged suitable for gift giving too! Bread will be baked November 23 and freezes well! This will be offered at Christmas time too! Pick up will be on Sunday November 24 or Wednesday November 27. There will be a very limited amount of bread baked beyond the pre-orders so be on the lookout for pre-order forms!
Newsletter Deadline Change  
The deadline for requesting something to be put in the Crossroads newsletter will be changed from the Third Sunday of the month to the 15th of every month. Requests made after the 15th will be put in the following month. Thank you, The Elders

Link Video Chats
Our  Youth/Young Adult Director, Melanie Crapser, holds "Link" video chats  a couple of times a month to keep in touch with our college age young adults who are either away at school or are keeping a busy schedule juggling school, work, family, etc. These are  on Wednesday evenings with a brief devotion and a short time to connect and catch up.  We hope this will be a great tool to help this group stay grounded in their faith. Contact Melanie if you'd like to be connected.
Daily Devotions Options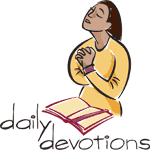 Daily devotions and spending time listening and talking with God is imperative not only for encouragement to face each day, but also to continue to grow in your faith.  There are many devotional ideas to consider. Here at St. John's, we have the Christ in Our Home daily devotional booklets available in regular and large print form.  Ask an usher and they can get one for you.  Also, for those who have a smart phone, there is a free app called "Our Daily Bread Ministries" (ODB.org) that you can download. This is a great, convenient way to begin each day.  We encourage you to pass this information to your family and friends, especially to those who may be away at school or on the road and do not have access to a written form of devotion.  This message is from the Worship Committee who want to support you in your personal journey and inspire you to spend time with the Lord every day.
Women's Bible Study Group      
The Women's Friday Morning Bible Study is back to meeting weekly with an eight session study by Kelly Minter called, "Finding God Faithful". Trace the path of Joseph's life in the Book of Genesis to observe how God's sovereignty reigns, even in our darkest moments. Learn to recognize when God is working during periods of waiting, trust God's plan when life doesn't make sense, and rest in the sufficiency of His presence in every circumstance. His provision is enough, His presence is constant, and His purpose is unstoppable. We would LOVE to have you join this fun group of women who love Jesus and enjoy learning from one another! This group meets every Friday at 9:00 a.m.
Women of the NALC
Bible Study — Thursday, November 7 — 9:30 a.m.
Sewing Work Day — Tuesday, November 12 — 9:00 a.m.
Bible Study — Thursday, December 5 — 9:30 a.m.
Sewing Work Day — Tuesday, December 10 — 9:00 a.m.
The St. John's Sewing group recently shipped 120 Lutheran World Relief Mission Quilts that had been sewn, knotted, and hemmed since October 2018. Many THANKS to this group, their families, and friends who support this important mission project.            More sewers and knotters would always be welcomed. There are funds available to purchase fabrics. Some of our quilts will be displayed on the pews at the Thanksgiving service. These will be part of the 2020 shipment.
Children, Youth, and Young Adult Groups October Events
Sunday, November 3
8:30-10:00 a.m. Pancake Bar Fundraiser
11:30 a.m. Confirmation Class / H2H
12:00-3:00 p.m. Serving Our Seniors – Everyone
      Wednesday, November 6
5:00-6:30 p.m. Melanie's Office Hours
6:30-8:00 p.m. GROUP TCC
8:30-9:00 p.m. Link Video Chat
      Friday, November 8
5:30-9:00 p.m. MY FROG Operation Christmas Child work night
      Sunday, November 10
11:30-1:00 TCC Youth Leadership
11:30 a.m. Confirmation Class / H2H
Wednesday, November 13
6:30-8:00 p.m. MY FROG GROUP
Sunday, November 17
11:30-1:00 Link Thanksgiving Lunch at Church
11:30 a.m. Confirmation Class / H2H
Wednesday, November 20
5:00-6:30 Melanie's Office Hours
6:30-8:00 p.m. GROUP TCC & MY FROG
8:30-9:00 p.m. Link Video Chat
      Friday, November 22
6:00-8:30 p.m. Kids Club – Youth helpers needed
Saturday, November 23
MY FROG Bread Baking 9 am
      Sunday, November 24
11:30 a.m. Confirmation Class / H2H
Wednesday, November 27
 5:30-9:00 Link @ Night of Lights
       Friday, November 29
Saturday, November 30
 10:00-12:00 TCC Salvation Army bell ringing at Hobby Lobby
7914 West Cook Road, Fort Wayne, Indiana 46818
260-489-5031 | office@stjohnslaketownship.org